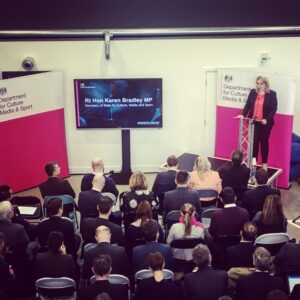 Navroza Ladha is Deputy Director for Digital Skills and Inclusion. Here, in her first post for the blog, she talks about a joined up approach to digital skills and inclusion.
Towards the end of last year I joined the Department to head up the team with responsibility for digital skills and inclusion policy. I'm sure I've already met many of this blog's readership and I look forward to meeting more of you. I'll use this blog to talk to you again in the future, but today I just wanted to take this opportunity to introduce myself and primarily to talk about…..
Taking forward the UK Digital Strategy on digital skills and inclusion
When the last government's Digital Inclusion Strategy was published in 2014, it said that its approaches should be reviewed in two years' time. That review has now been completed in consultation with our stakeholders and experts in the field, and last month we set out our new high-level approach in the Digital skills and inclusion chapter of the UK Digital Strategy.
The targets that were set in 2014 were a good starting point, and we have made progress in helping more people to get online.
Since the publication of the Digital Inclusion Strategy the number of people who have never been online has been steadily decreasing to a low of 10% (ONS 2016) (it was 17% in 2011) and just last year, as shown in the 2017 Lloyds Consumer Digital Index, an additional 1.1 million people gained basic digital skills.
But now, with the publication of the UK Digital Strategy, we have the opportunity to make our metrics clearer so that we can better track progress. Over the coming months we'll be using this blog to talk about implementing the UK Digital Strategy in more detail; how the review helped us look at the things that are working (and that we will continue to do), but also some new approaches based on what we've learned.
A joined up team
Digital inclusion and digital skills are intrinsically linked, so it's no coincidence that we talk about both together in the UK Digital Strategy. Here at the Department for Culture, Media and Sport, we have brought two teams together to reflect that. We didn't need to flex our creative muscles too hard to come up with a name for the new team…..It's called the Digital Skills and Inclusion team.
That doesn't mean we're not concerned about the other three main barriers to digital inclusion: having the right access, trust and motivation to confidently go online. It does mean we're taking a much more joined up approach, for those at all levels of capability. From those who don't have any digital skills, through to those who need to improve digital skills to get the most out of the digital economy at work or in their home lives,  right up to ensuring we have a workforce with the advanced capabilities needed for specialist digital roles.
A central information point on GOV.UK
We've often talked about the importance of taking an iterative approach to our work, rather than holding up projects that are ready to be tested or delivered, just so we can launch everything at once. Those values still hold true, so we'll be using this blog to keep you updated on the new programmes and approaches we're developing. And we'll be asking what you think about them too.
Today we launched a new home for information on government work on digital skills and inclusion on GOV.UK. The Digital Inclusion and Skills policy page will provide an overview of what we and our partners do, and how we're doing it. We will continue to 'iterate' it, adding new links to resources, reports and anything else we think you'll find useful as we go.
So, have a look at our new page and we'll let you know here whenever we add to it.