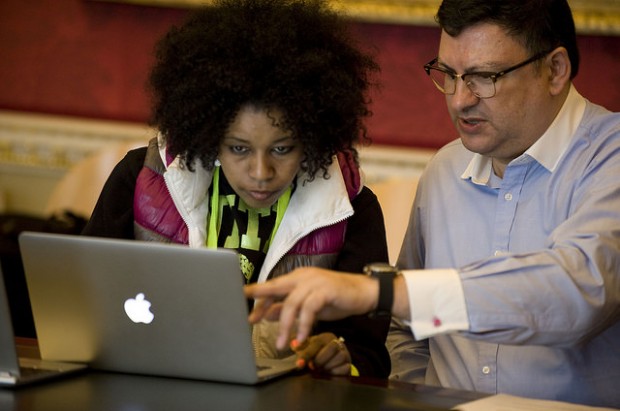 We've been busy over the last few months building up support for our 'Digital Friends' initiative.
Digital Friends is about creating informal peer-to-peer connections - it's about encouraging everyone across the country to find at least one family member, neighbour, colleague or friend who doesn't use the internet, and helping them take that first step.
Above all else, it's about helping as many individuals as possible, with the support of someone they trust, to discover the ways in which the digital world can enrich their lives.
All government departments
We launched back in March 2015 and we have now had a commitment from all government departments to start rolling this out with their employees.
BT, Halifax and the Society of Chief Librarians (SCL) have also started rolling this out within their own organisations -  this builds on the pilots that Argos and the Department of Health ran with staff members to test messaging to see what works well and what doesn't.
Informal support
There are already so many great formal digital champions networks within and across departments and partners that are making a real difference, and the purpose of Digital Friends is to enhance, not replicate, these. But no matter how effective our formal networks are, there is always room for informal support.
Could you get involved? Do you know someone - either in your personal or professional life - who would benefit from the opportunity to improve their digital skills? What is the 'hook' that will motivate them to take the first step?
Advice and guidance
There are some great online resources for advice and guidance on how to help at digitalskills.com/volunteers, digitalunite.com/guides and bbc.co.uk/webwise.  
We'd love to hear about your personal experiences of being a Digital Friend. Feel free to share your story in the box below.