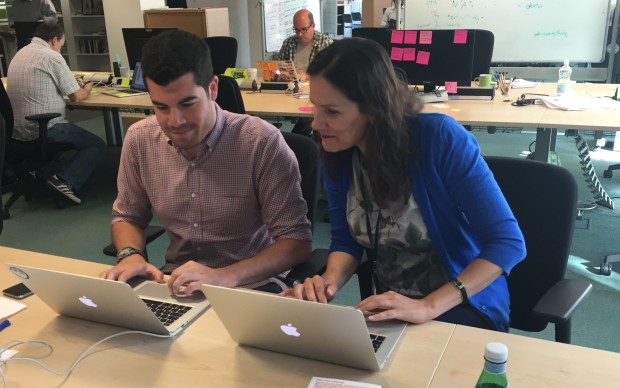 I thought it would be helpful to write a post that captures all of the areas of digital inclusion (DI) that we are working on.
Hopefully, it will serve as a resource for people working or planning to work in and around digital inclusion at the local level. I've included links to resources to increase understanding about:
what digital inclusion is

why it is important

who is digitally excluded and where

the five key critical success factors in successful local DI initiatives

how to measure DI at the local level
What is digital inclusion and why it is important
Digital inclusion is giving people the skills, access, motivation and trust to go online to do a whole range of things. There are currently 10.5 million UK adults (source: BBC Media Literacy, Nov 2014) who lack the basic digital skills to do this.
A growing body of evidence indicates that DI has significant potential to deliver economic, social and health outcomes for both society and the individual.
Go ON UK and Booz & Co research estimates that if the UK achieved global leadership in digitisation it could add £63 billion to its annual GDP.
Research commissioned by BT estimates the social value for individuals of getting online for the first time at £1,064 per annum delivered through enhanced job searching, saving time and money and reduced loneliness.
We want to make sure that everyone in the UK has the digital capability to take full advantage of being online, including small businesses and charities, many of which (around 50% when taken together) don't even have a website.
Who is digitally excluded?
Within the 10.5 million people who lack basic online skills, we know that:
Women - make up 57% of people without basic online skills

Older people - people aged 55+ - make up 75% of those without basic online skills (to note, people aged 65+ make up 57% of those without basic online skills)

Lower socio-economic status - people in C2DE households make up 69% of those without basic online skills
There is also notable regional variation, ranging from as few as 11% lacking basic online skills in the South-East to as many as 25% in the North East.
In terms of internet use, we know that whilst the so-called 'digital divides' have narrowed over time, internet use in the UK is still strongly stratified by age, (dis)ability, income, education and geography. Digital inequalities follow lines of social disadvantage. The main groups most at risk of digital exclusion are:
Those in lower socioeconomic status groups

A quarter of those in DE households don't use the internet at all, compared to less than one in ten AB (5%) and C1 (9%) adults. (Ofcom Adults' media use and attitudes

Report

2015)
Those with lower levels of education

Only 40% of those without qualifications use the internet, compared with more than double that among those with any level of formal educational qualifications. (

OXIS 2013

)
Those with a disability or in poor health

27% of disabled adults (3.3 million) have never used the internet, compared with just 7% of non-disabled adults (

ONS

Internet Users 2015)
Half a million disabled adults last used the internet over 3 months ago, making up 48% of lapsed internet users (

ONS

Internet Users 2015)
Older people (who are likely to have lower incomes, lower levels of education and one or more disabilities or health conditions)

Of the 5.9 million adults who have never used the internet, just over half (3.0 million) are aged 75 years and over. (

ONS

Internet Users 2015)
61% of adults aged 75 and over have never used the internet, compared with 0.4% of 16-24 year olds. Adults aged 75+ also had the highest rate of lapsed internet users, at 6%, compared with 0.3% of adults aged 16 to 24 years. (

ONS

Internet Users 2015)
Barriers to digital inclusion
Barriers include access, skills and - increasingly - motivational factors, such as lack of interest or perceived need for getting online. ONS data shows that, among households without internet access:
(53%) say they don't have a connection because they 'did not need it'  (up from 34% in 2006);
32% indicated that this was due to a lack of skills;
high equipment costs and access costs are also a barrier to 12% and 11% of households respectively.
Successfully embedding digital inclusion in local policy and services
We have investigated successful local and national digital inclusion initiatives where DI has been embedded and supported the achievement of wider outcomes.  Our route map, although created with central government in mind, may help you see how others have approached this. More recently, we have produced three blog posts that highlight not only the five critical success factors (here and here) in delivering effective local initiatives, but also showcased how Cambridgeshire  has successfully rolled out a superfast broadband programme and invested in upskilling local residents too.  
Measuring progress against outcomes
We have developed a Digital Inclusion Outcomes Framework and supporting tools to enable people to measure and evidence the contribution that digital inclusion/skills activity make to better outcomes in areas of policy that matter, locally and across the UK. This will help further build the evidence base, demonstrate the value of digital inclusion activity to individuals, communities and society, and make the case for investment.
We'd really like to hear about how digital inclusion is being taken forward in your local area and what you'd like us to focus on in future blog posts.  Please do add your comments below.
Follow Beccy on Twitter and don't forget to sign up to alerts to the Digital inclusion blog.