As more services become digital by default, support needs to be in place for those people who cannot use them independently.
11m people in the UK currently lack digital skills and can't use digital government services independently. Government will always offer users who need it help to use digital by default services, be it over the phone, face by face, or in another way. We call this 'assisted digital'. We also want to improve people's digital skills more broadly and call this 'digital inclusion'.
The government is committed to working with partners from the public, private and voluntary sectors to help people go online. The Digital Inclusion Strategy launched in 2014 outlined the goal that by 2016 we will have reduced the number of people who are offline by 25%. We will continue to do this every 2 years and by 2020 everyone who can be online should be online.
Being digitally capable can make a significant difference to individuals and organisations day to day. For individuals, this can mean cutting household bills, finding a job, or maintaining contact with distant friends and relatives. For organisations, going online can provide ways to reach more customers and reduce operating costs. The internet also provides broader benefits, by helping to address wider social and economic issues like reducing isolation and supporting economic growth.
As part of the service assessment, services need to demonstrate how they are addressing their particular users' barriers to being online - this is digital inclusion support. Research shows that there are four key barriers: skills, access, motivation and trust - what this means for each service will vary depending on its users, and services should spend time understanding why users are not completing their transactions online and what their support requirements are.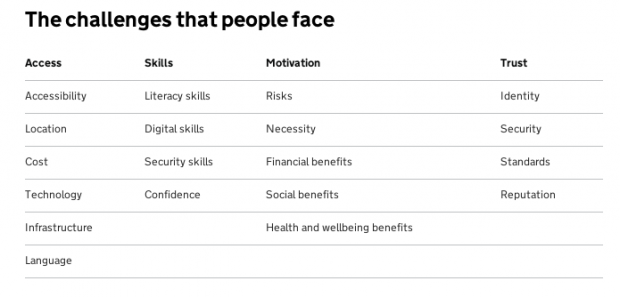 Each service has the responsibility to ensure that resources are in place for relevant digital inclusion support. To address some basic barriers, digital inclusion activity could be embedded in the assisted digital support that they offer. For other barriers, services need to understand the best ways of addressing that barrier, appropriate to the particular users in question. This might not necessarily mean setting up new initiatives, but signposting to existing ones and checking that they will have the capacity to handle referrals from the service.
To support services in thinking through and developing plans for digital inclusion provision, this blog outlines some the national initiatives that aim to increase digital capability and access to equipment. We anticipate services will want to supplement this information with particular digital inclusion activity that supports their service users - for example, localised digital skills training or training that supports a particular customer base. Many of these can be found on digitalskills.com, a single source of information, resources and guidance for people and organisations looking to go online.
We recommend that services also liaise with their representative on the Digital Inclusion Digital Leaders' sub-group who may be able to provide particular advice and support and link them with the digital inclusion team if required.
Signposting to national organisations
Tinder Foundation manages the UK online centres network, which consists of a network of 3,000 centres that bring basic digital skills training to communities. Some centres operate in libraries, community venues and leisure centres whilst others operate in pubs, cafes and mosques. For more information and to find your nearest UK online centre call 0800 77 1234 or visit the Tinder Foundation website or search for your nearest UK Online Centre.
Learn my way, run by Tinder, is a website of free basic online basic skills courses. For more information, check their website.
Other online courses are provided by Digital Unite.
Libraries
Many libraries offer a range of digital services. These include internet access to customers, online library services including access to ebooks and staff who can support customers access digital information. Click here to find your nearest public library service (your local Post Office may also signpost to local support services).
Tailored support
A  range of more tailored support exists for particular customer groups and services are encouraged to research the following organisations, along with other relevant organisations.
Support for older people:
Call Age UK's freephone number 0800 169 6565 for your nearest Age UK and ask about local training opportunities or visit their website.
Support for disabled people
AbilityNet's Advice and Information Services provide free specialist support to thousands of people every year, including free to download factsheets, telephone support and direct IT support from their network of ITCanHelp volunteers.
Call their Advice & Information Helpline on 0800 269 545 or visit their website.